How to order
Our products can be ordered on this website, after login is provided bij Xena Vuurwerk BV.
Access to the ordering module will only be given to customers who are authorised to use, sell, or store pyrotechnic products in accordence with the requirements of their national laws.
The customer is obliged to sent documents confirming these rights, such as permits, entry in the register of entrepeneurs, licensens, confirmation of tax registration etc. Without these documents, no acces to the order module will be given.
Customers who meet the conditions that are mentioned above, can request for an account at Xena Vuurwerk BV.
You can submit your request online HERE, or by sending an email to info@xenavuurwerk.com.
Our prices are only visible for logged in users.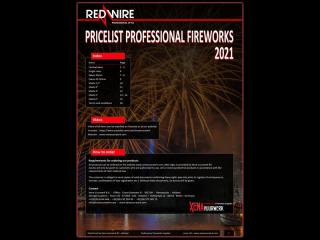 All RedWire fireworks products are presented in our price list, including all specifications and relevant information.
Pyrotechnic companies can request for a current price list by sending an e-mail to info@xenavuurwerk.com, or by using the contact form on this website.
Ordered products can be delivered by Xena Vuurwerk BV across Europe, or collected by the customer at our storage bunkers in Reken - Germany.
The costs of transportation are not included in the prices of our products and will be additionally charged.
It is possible for customers to collect the ordered products in Reken - Germany, using own means of transport. By deciding to make the collection in person the customer needs to hold ADR certificates, for the vehicle and the driver, when the cargo exceeds the limit specified in the ADR regulations for road transport. The driver also needs to be in possession of a Befähigungsschein (par. 20 Sprengstoffgesetz).
A summary of our terms and conditions you can read HERE.