Pyromould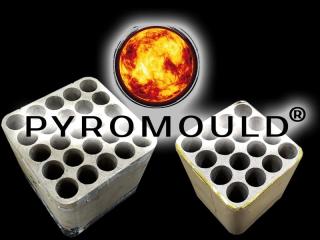 Pyromould is a revolutionary, patented way of making fireworks and is better in many ways. These moulds have many safety advantages, are eco friendly, can be produced faster and have the perfect performance for use in fireworks displays and shows.
Nearly all festivalcakes of RedWire fireworks are made of these fire resistant moulds and are therefore very suitable for events with crowd nearby.
Pyromould® has many safety advantages:
Stable shapes, will not tip
Made of fire resistant material (no more burning cakes!)
No perforating
Moisture absorption < 4,5%
Negligible chance of tube explosion
Negligible chance of low-height explosion
Because of these safer qualities the Pyromould® are top notch for use at festivals and outdoor events with stages and crowd nearby.
Pyromould consists out of plant fiber, starch and calcite. These components can be recycled for the full 100%. This sustainable production is more eco friendly than traditional cakes with tubes.
Because Pyromould® is produced mechanically, demand of labor and the intensity of labor is reduced. Also the production is not affected by weather conditions.
With Pyromould® also the quality will be improved. These moulds provides various advantages:
Consistent shooting height and direction of the effects
Accurate tempo of the effects (easier to program!)
Complete function
Strong body
< 0,5mm deviation for inner diameter and height of tube
Consistent quality of whole production batch